Add vibrancy and comfort to any indoor living space or outdoor space, patio, deck, or yard with this Hagan 2-Point Chair Swing and Space-Saving Hanging Cotton Chair Hammock. Because of the unique stand design and 2-point hanging chair, this has a very roomy seat when compared to other sets, made of soft cotton material with durable ropes and points for 2-sided hanging. They included "A" stand that features durable tubular steel construction. The heavy-duty stand features a unique double "A" frame that secures the hammock swing on both hanging points. They will be just what you need to allow you to enjoy the set to the fullest. Plus, the base makes it easy to put up in smaller spaces whether you choose to put it indoors or outdoors.
What's Included?
Stand
Features
The swing/stand set provides the comfort of a hammock paired with back support so it is perfect for reading or relaxing.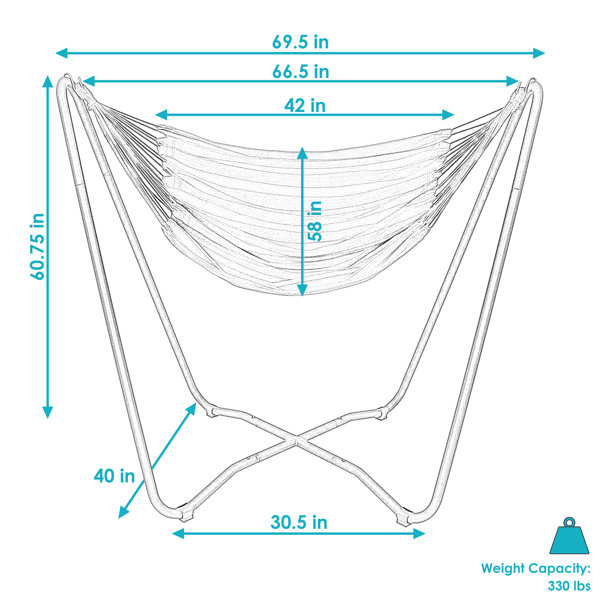 Overall
60" H x 68" W x 38" L
Hammock
60" W x 58" D
Frame
60.75" H x 69.5" W x 40"
Overall Product Weight
31 lb.
Features
Product Type
Chair Hammock
Capacity
Single
Weight Capacity
Hammock Fabric Material
Cotton
Quick Dry Material
Yes
Durability
Weather Resistant
Suitable for Indoor Use
Yes
Location
Indoor / Outdoor Use
Hammock Stand Included
Yes
Stand Construction Material
Metal
Stand Color
Black
Spreader Bar Included
No
Tree Strap Included
No
Cushion Included
No
Storage Bag Included
No
Pieces Included
1 Hammock Chair and 1 Stand
Supplier Intended and Approved Use
Residential Use
Imported
Yes
Assembly
Suggested Number of People for Assembly/Install
2
Level of Assembly
Full Assembly Needed
Adult Assembly Required
Yes
Additional Tools Required (Not Included)
Tool Free Assembly
Warranty
Commercial Warranty
No
Product Warranty
Yes
Warranty Length
1 Year
Full or Limited Warranty
Limited
Warranty Details 2
Any modification or failure to follow the recommended care will void the product warranty.